One of the absolute best things about Santa Fe is the eating. I agree that it's not the only thing worthwhile about visiting - there's the Opera and the Lensic and the Georgia O'Keefe Museum and the Plaza and the Railyard and the hiking and the skiing and Ten Thousand Waves and music at El Farol on a Saturday night. . . There are a lot of good reasons to visit Santa Fe. But the food. . .just thinking about the amazing and varied food you can find here makes my mouth water. In fact, I'm hungry now.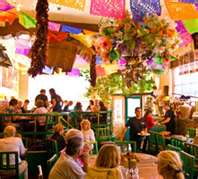 Pasqual's
I love a great breakfast. In fact one of the most difficult things I used to face each time I visited Santa Fe was that IF I was going to branch out and try a new breakfast place, I would have to give up one of my old favorites. Trying something new meant I wouldn't get to taste the incredibly delicious red chile sauce or the bakery basket and the huevos yucatecos at the Tecolote Cafe or the griddled polenta with chorizo and red sauce at Pasqual's. But sometimes you have to make a great sacrifice in order to feed your soul. Or at least your panza. Now that I live here, there's less angst about where to eat, as I can always try an alternative next week. Or tomorrow. Once I finally got here, I momentarily put away my hankering for the goat cheese and green chile on the eggs at Tecolote, promised myself a visit there soon, and then checked the web for the addresses of my two new potential eateries: Tia Sophia's and The Pantry.
---
Little did I know that I had located a new place for my top five favorite list with Tia Sophia's. There was a wait, as there always is on the weekends, but when we were finally seated, the chorizo burrito was well worth the time we spent standing on the street waiting for our name to be called. Robin had huevos rancheros, Johanna had carne adovada with eggs. We all passed our plates around (I'm just going to go out of a limb right here and say that if you're not a sharer of great food, if you balk at allowing your friends to sample what's on your plate, you're probably not going to enjoy a meal with me) and I secretly wanted to take Johanna's plate away from her. Not because mine wasn't delicious - it's just that in my lifelong search for the best carne adovada in the world, Tia Sophia's may have been close to number one. . . That was Saturday. On Sunday, five of us headed to The Pantry on Cerrillos Road, a place that's been in business since the late 40's. I had heard raves about the red chile, so of course I had to try the carne adovada. It was so perfect I carried out a pint of red chile to eat on my eggs at home on Monday.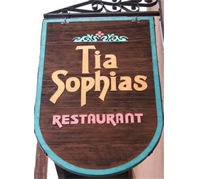 ---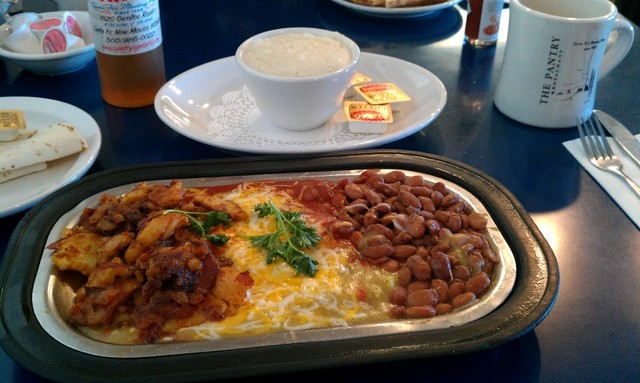 Carne adovada breakfast at The Pantry. With grits

The best part of the meal, however, was TJ ordering the corn-flake encrusted, blueberry and whipped cream stuffed French toast. It was his birthday, so he decided that delicacy would be a good substitute for cake. Sitting in the middle of the

table, it was better than birthday cake. Even though we all had entrees of our own, we ate every bite.
---
The Pantry has long been a favorite of locals and it's clear that the crowd this Sunday morning was familiar to the wait staff. It made me glad that I'm finally a local. It made me want to eat there every single weekend.

It's always a battle to figure out where to eat breakfast in Santa Fe. I lie awake early in the morning, while the rest of the house sleeps, thinking about where I want to go next. If you're like me, I suggest you put at least ONE of these new favorites on your list. Or just stay a week and try them all.