FOR GOOD FORTUNE IN 2018, TRAVEL TO CENTRAL WESTERN NEW MEXICO – LIGHTNING FIELD, PIE TOWN AND THE VLA
For good fortune in 2018, head for the Continental Divide and Pie Town in western New Mexico. If you don't love pie, go ahead and shoot yourself, because there's no purpose to life without pie. At least that's what they say in Pie Town.
My favorite - chocolate pie

In fact, if you don't love pie, this fortune may be exactly what you need in 2018, because the purpose here is to show you something new, exciting and unexpected. If your schedule permits, plan your visit to Pie Town for the Pie Town Festival in September.

Before you go, (actually this week, because reservations are so hard to get), make a reservation with the Dia Art Foundation to spend the night at the Lightning Field south of Quemado. Pray for rain, thunder and lightning, but know that even if there's no weather, the Lightning Field, 400 polished stainless-steel poles 20 foot tall and arranged in a mile by a kilometer grid, will be breathtaking.

The Lightning Field will be like nothing you've experienced before. At sunset and sunrise it will be one of the most amazing places you've ever been.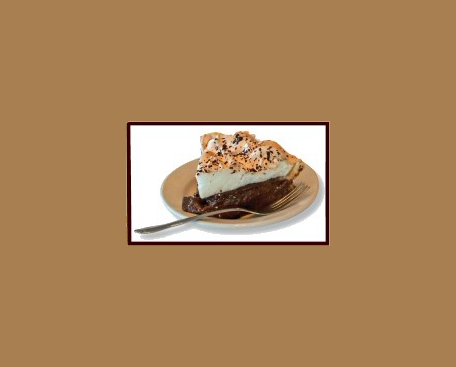 ---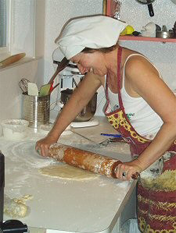 Rolling out the crust at the Pie-O-Neer

But back to the pie. Before you head off to Quemado for a night among magic, spend the morning at both the Pie-O-Neer cafe (You can even have pinto bean pie) and the Daily Pie Cafe. (Kathy Knapp of the Pie-O-Neer was profiled in Sunset magazine - great article and you get a coconut cream pie recipe to boot!) Order at least three pieces of pie at each place, taking at least two bites of each. Choose your favorite. Change your mind. Order more. Revel in the fact that you're alive and breathing (at 8,000 feet, no less), and eating pie. Strike up a conversation with a stranger. Eat more pie.
---
VLA at sunset

After your night at the Lightning Field (or in the Pie Town cabins if you can't get reservations), travel east and visit the VLA (Very Large Array) between Pie Town and Socorro. Stop when you see those 27 antennas in the distance. Stop again when you get closer. When you're finally up close, stop and be amazed at the size and scope of one antenna standing alone.

---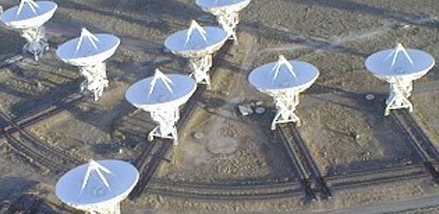 Marvel at science and intelligence, and then remember Jody Foster in "Contact" and how she found something new, exciting and unexpected. Maybe you'll have contact with an alien. Maybe you'll just get some amazing pictures.
It doesn't matter. Take a minute to marvel. Marvel at the fact that in the past 24 hours you've had bites of at least six pieces of pie AND seen the Lightning Field AND now you're here in one of the largest scientific installations in the world.
Keep marveling as you go down the road. Life's pretty marvelous. Remember to marvel every day. Let 2018 be your year for marveling.